Rocco Pellegrinelli
Board Member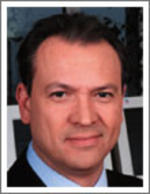 Rocco Pellegrinelli has a background in finance and is a successful entrepreneur in the technology sector.
He created Brainpower in 1993 and acted as CEO and Chairman leading the company's growth in the competitive financial software area and establishing it as one of the top portfolio applications provider on an international scale. After taking the company public at the Frankfurt Stock Exchange in 2000 he successfully sold Brainpower to Bloomberg in June 2006.
He founded Imaginventure in 2006.