Peter Brownell
Co-founder and Chief Technology Officer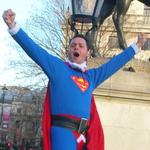 Peter Brownell hates websites. Really. He spends his life building the things, but would prefer it if he did not have to. He wants to build tools that make the world better. Maybe Schoolofeverything.com is the most effective way he can achieve his goal.
Peter is usually known as Greenman, but the story behind the name is not really interesting. He normally attempts to define himself as an Artist/Philospher/Programmer, but that does not hold up under closer inspection either. Anyway, his programming started around age ten and has now risen to dizzy heights as one of the organisers of the UK Drupal user group. He's spent half his life writing software that would "change the world", but so far, has kept it all to himself (because he kept realising the world was a little more complex than his planning phase took into account).
Offline, Greenman has been poking fun at "The System" as a member of the Space Hijackers. (Who now own a tank that they don't quite know what to do with.) He spent a few years helping to run Dorkbot London ( a monthly show and tell for "People doing strange things with electricity"), a toastmasters club, an art collective and a few other projects. He's now decided to study homeopathy for some unknown reason.
One day he plans to give it all up and become a gardener.