Yet another very special School of Everything Special for you. Be quick to get a place as there are only 10 spaces available. Book tickets here.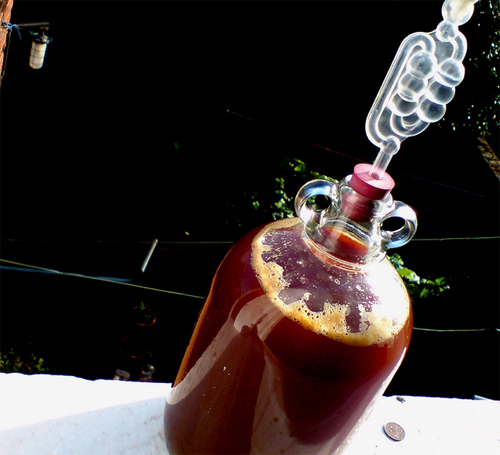 Title: How to homebrew anything
Date: Wednesday 30th March 2011
Time: 7pm - 9pm
Location: Near Chalk Farm, North London
Duration: 2 hours
Price: £30
Teachers: Charlie Tims and Pete Clarke
Photo: Charlie Tims
About this class:
Only ten spaces available
Created exclusively for School of Everything
No previous homebrewing experience necessary
Beer and supper included
Learn to harvest and homebrew without leaving London
A rare chance to learn from Charlie Tims and Pete Clarke - they make beer, wine and cider in their London home and they want to teach you how to do it too. In this 2 hour class you will be taught the homebrewing process, how to source your own materials, and learn what you can cook up. You'll be surprised! This is the first and only class of this kind so sign up quick.
In this School of Everything Homebrew Special you can learn to create your own homebrew to share with friends. You'll be welcomed in to Charlie and Pete's home near Chalk Farm, North London and they'll talk through the process, demo the techniques and reveal how they got started with harvesting and homebrewing the fruits of London's trees and hedgerows.
This class is for all. You don't need to have any homebrewing knowledge to attend this class. It will equip you with a basic knowledge to make beer, cider and wine in your home - including hands on experience of syphoning, capping, corking, sterilising, measuring specific gravity, fitting an airlock. It also covers basic safety and hygiene, approaches to sourcing fruit, advice on stockists and equipment.
This evening class includes supper and beer - you may get to sample some of their homebrew alcohol too.
About the teachers:
Charlie Tims is a freelance researcher interested in creativity, communication and public spaces. He tries to find new ways to research with others and share ideas in simple ways. Charlie is currently working with A New Direction in East London on Biglop - an education programme that brings 15 artists together with 142 schools across London to explore questions raised by London's Olympics. His other projects include Hometaping and Make Nubs he spends his spare time gardening, printing, cooking and scrumping of course. Pete Clarke is a French and Spanish tutor by day but homebrews by moonlight.