We have another very special School of Everything Special for you. Be quick to get a place as there are only 10 spaces available. Book tickets here.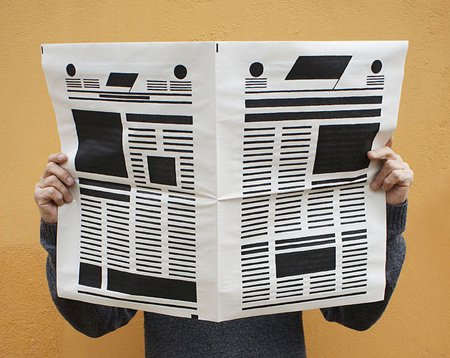 Title: How to make your own newspaper
Date: 10th March 2011
Time: 6.30pm - 8pm
Location: 18 Victoria Park Square, London, E2 9PF
Duration: 1.5 hours
Price: £25
Teachers: Tom Taylor and Ben Terrett
Photo: Newspaper Club
About the class:
Only ten spaces available
Created exclusively for School of Everything
1 hr 30 min class in East London
Taught by the founders of Newspaper Club
Extra! Extra! It used to be only media tycoons that had access to the printing presses but now Newspaper Club means we can all have a go at creating beautiful printed things. Whether you want to produce a one-off for a friend's wedding or your own weekly tabloid, Newspaper Club lets you curate, design and print anything from 5-5,000 copies. You can read a bit more about them in this BBC News article.
In this exclusive School of Everything class, Newspaper Club co-founders Tom Taylor and Ben Terrett will give you tips about how to create your own fantastic newspaper using Newspaper Club. The class will include:
Newspaper Design 101 - learn the lingo. Know your masthead from your dropcap.
How ARTHR works - learn the basics of Newspaper Club's in house design tool.
An introduction to printing - what happens when you click 'print'.
Advanced tips - a few design tricks to make your newspaper look like the real deal.
Includes £10 voucher towards printing your first newspaper.
About the teachers:
Tom Taylor is a creative technologist and engineer and co-founder of Newspaper Club. He's a partner of the Really Interesting Group and has done work with the BBC, the National Maritime Museum, Dentsu London, Innocent Drinks and Stamen Design. He's just cycled from Land's End to John o' Groats.
Ben Terrett is an award winning designer and also co-founder of Newspaper Club and a partner at RIG. As well as loads of conferences, he has spoken about design on Radio 4's Today programme and written feature articles for The Guardian, Creative Review and Design Week. He has notoriously bad music taste and as a consequence knows all the words to DJ Jazzy Jeff's Summertime.