DorothyM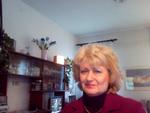 My name is Dorothy Maxwell Rowatt. I am a Reiki & Seichem Master/Teacher (Tera-Mai,TM); Transformatarea of Italyion Meditation Teacher; Energy Scan Practitioner; Holistic Therapist; Angel Practitioner (ACP Charles Virtue); Archangel Life Coach; I am also an Avon Representative, but only in the Padova area of Italy.
MY WORKSHOPS - IN PADOVA, ITALY
- Meditation Workshops & Reiki
- Angel Meditation & Seichem
MY ONLINE SESSIONS
- Meditation & Energy Scanning
- Angel Meditation and Archangel
I also give Eastern Facial Massage Sessions and Reiki/Seichem Sessions in Padova, Italy.