Be quick to get a place for this special and you'll get an Early Bird Discount! Book tickets here.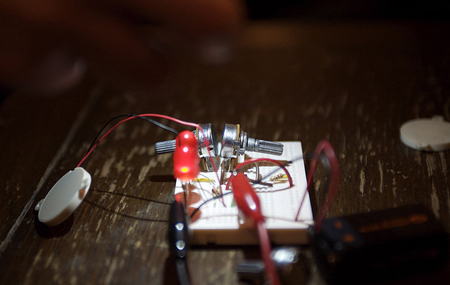 Title: How to make a DIY synth sound machine
Date: Thursday 14th April 2011
Time: 7pm - 9pm
Location: 18 Victoria Park Square, London, E2 9PF
Duration: 2 hours
Price: £25
Teacher: Evan Raskob
About this class:
Only 10 spaces available
2 hour class in East London
Includes kit of sound-making electronics and a booklet to take home
Taught by multimedia artist Evan Raskob
Suitable for all ages and abilities
Using basic circuitry, in this School of Everything Special you will learn how to create a synth sound-making machine to impress your friends and astound your enemies. It doesn't involve soldering or anything like that and we'll provide an exploratory kit of electronic parts, sensors and expert guidance. All you need to bring is a little bit of creativity and enthusiasm. The result is a sonic cacophony for people of all abilities. The class is suitable for all ages and skill levels so you can bring the whole family along. Be warned that there are small parts that younger kids might try to eat; this is not ideal obviously.
About the teacher:
Evan Raskob is a contemporary multimedia artist whose works spans video, sound, installation, performance, and interactive art. Recent exhibitions include Waving / Drowning, a gallery show of human movements crystallized into a series of digital prints, sculptures, and interactive software, and Drawn Together, an interactive installation project exploring creative crowd sourcing in hand drawn music videos, featured at The Big Chill festival this past August. He also set up Open Lab Workshops to explore creating and hacking media using free software and tools. Basically, he knows what he is doing.