Wow! From the reaction we've had over the past couple of days, it seems the media have rather exaggerated the death of morris dancing!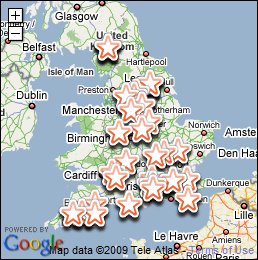 Claire and I have both been learning a lot about the world of morris. Thanks to everyone who emailed us or commented on Tuesday's blog post! It's been great to see sides all over England adding their pages to School of Everything - check out the map on the right.
I'm loving the colour and variety of dancing on show, not to mention all the related traditions that are alive and kicking out there! Of course, there's plenty of the Cotswold dancing which everyone will recognise - take Bedcote Morris of Stourbridge, for example. But from the Quayside Cloggies in Poole, to Derbyshire's Freaks in the Peaks and the Thieving Magpies in Rochdale, there's so much more diversity than the stereotype of big-bellied men with beards and hankies! Meanwhile, down in Kent, the Fabulous Fezheads sand dancing sounds amazing - and a little bit dangerous! And then there are the Bradshaw Mummers, who don't dance but do carry on a tradition of folk theatre that stretches back to the Middle Ages.
A few people pointed out that the photo we used on Tuesday was a bit of a cliché. So here's something rather different, sent in by Phil Heaton, who's Secretary of the Sword Dance Union: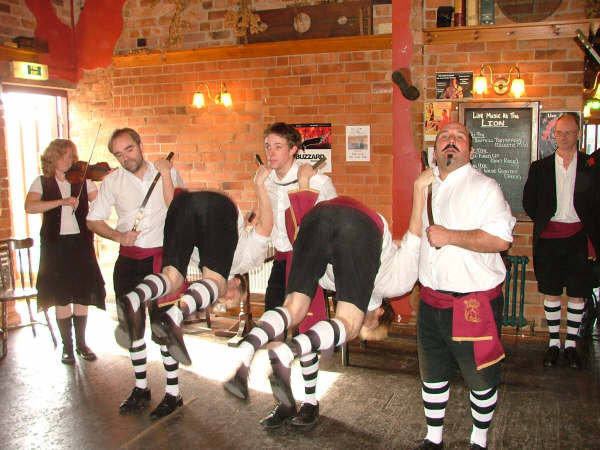 That's Stone Monkey, a team from the East Midlands who do both rapper and longsword dancing - as Paul points out, "an entirely different cultural sport".
Meanwhile, James from Folksy - a fantastic site that gives crafts makers a place to sell their work - sent us a picture of these woolly morris dancers:
Heather, who made them, tells me, "They proved quite a hit at the Tenterden Folk Festival and I'm pleased to say I've even supplied a couple to an American side!" If you'd like to buy one - or even commission a mascot for your morris side - then visit Heather's shop on Folksy.
Finally, Joanne from Maids of the Mill told us about their unconventional themed morris dances - including this one, which I love, featuring Dr Who and the Daleks:
In fact, the combination of that and the handful of "morris dancing jedi masters" joining the site gave us an idea - how about a Star Wars dance, based on a traditional stick dance, but using light sabres? There are enough of us on the School of Everything team to form a beginners morris side, so if anyone's up for coming to Bethnal Green to teach us, get in touch! (We'll arrange the light sabres and jedi cloaks...)