Hannah Northedge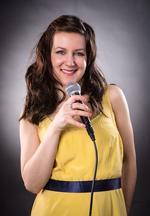 Hannah is a professional pop, jazz and blues vocalist and bandleader based in London. She grew up in Leicester and Australia and became a professional vocalist in her teens singing and playing guitar in venues in Leicestershire. Her mother had also been a professional singer supporting well known 1960s bands at venues across the UK.
Hannah has performed at Ronnie Scott's Jazz Club, The 606 Jazz Club, Abbey Road Studios, The Wireless Festival in Hyde Park, Twinwood Festival, Westminster Methodist Central Hall for Her Majesty the Queen and Tony Blair and The Barbican Centre with Dave Brubeck and his Family Quartet. She has sung as a guest with The Rat Pack Trio and Orchestra on a UK Theatre Tour and in two Proms at the Royal Albert Hall. Hannah has sung with The Les Paul Trio in New York City and has been asked to record in Nashville by Tim O'Connell, award winning songwriter for Johnny Cash. In addition, Hannah has had recent airplay on Jazz FM and BBC Radio.
She fronts her own bands including Ricochet Function Band and See Saw Duo.
Hannah has been teaching singing privately for over 15 years. She also coaches singers on the artist roster at major record BGM in London, in schools, at night classes and for small and large ensembles. She currently coaches over 30 singers. Singers of all abilities are welcome, especially very nervous students. Tuition in all musical genres is offered encompassing pop, jazz, rock, country, blues.
CLIENTS:
*Pop band Holah for Grammy award winning producer John Hudson (Tina Turner, David Bowie).
*X Factor finalist James Vickery who has also appeared on The Voice and sang at the 02 in the Open Mic UK 2012 final.
*Giles Potter who sang at the 02 for the Open Mic 2011 final and who has been booked to sing at Wembley Stadium in 2013 as the guest soloist in an amalgamated choir concert.
*The Hannah Northedge Choir coaching them to sing on the soundtrack of The Oxford Murders (Elijah Wood, John Hurt) at Abbey Road Studios for film composer Roque Banos (The Machinist, Evil Dead).
*West End singers: Raquel Jones and Tanya Shields.
*Open Mic UK and Live & Unsigned major UK singing contests sitting on the panel of judges.
*Electronic artist Rebecca Closure for Custom House Records.
*Vocalist Katie Menditta from pop band Katy and the Elders.
TRAINING:
Hannah is currently studying for a Master of Music (MMus) degree in Performance at the University of Surrey.
Hannah continues to train and broaden her knowledge with Anne Marie Speed (The Voice Explained), Kim Chandler and Dane Chalfin. She has also trained with Mary Hammond (Royal Academy of Music), Dinah Harris, Evelyn Dowling (Dublin), and jazz singer Tina May.
She has attended the following vocal training courses:
Vocal Process: Belting Explained - 2008
Dane Chalfin: Teacher Training 3 day residential course - 2010
Fundamentals of the Singing Voice 1 & 2 - City Lit Institute - 2011
BVA Interactive Rock and Pop Day - 2007
BVA Idiomatic Choral Sound - 2010
BVA The Voice and the Brain - 2012
Vocal Process Webinar: Singing in Chest Voice - Feb 2013
To read more about Hannah's career and view her tour schedule please visit her website.
Looking for: people to learn with, help and advice, networking, collaboration and interesting things.