Leighton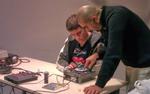 Mr Leighton. A. Nugent MA, BA {Hons}, PGCE (Director)
Tel: 0345 113 0000
Mob: 0781 327 0232
Email: [email protected]
Leighton's educational background included teaching a range of subjects at various College settings, including sociology, psychology and criminology. He also taught Key Skills, and Coordinated the ESOL department.
Other experience includes extensive professional experience in recruitment, sales and marketing, particularly in the human resource sector.
He now runs Nugent Education Ltd. They provide a range of creative, performing and urban arts workshops and activities. These include school workshops, youth activities and kids party entertainers. It is not easy to think of things to do with kids! They mainly work with schools, children's organisations and youth clubs and so on.
The key areas they provide arts workshop activities in are the North West of England, the Midlands, North Wales and also London and surrounding areas.
Workshops are available in Liverpool, Manchester, Birmingham, London, Flintshire, and Derby and across England and Wales.
See: https://nugenteducation.co.uk
Looking for: networking and collaboration.
Based in
Liverpool, United Kingdom