Philip Wale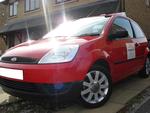 A drivers licence opens up so many opportunities and gives you that all important independence and adds a significant amount of freedom to your life.
I am committed to providing a positive, relaxed, learning environment and would consider myself extremely patient and easy to get on with, all of which are essential elements involved in making sure your learning experience is interesting, stimulating, fun and above all fulfilling!
My aim is to not only teach you to pass your test but to teach you something that is far more important, how to become a safe driver for life!
Learning
This person isn't learning anything yet. Why not send them some inspiration by messaging them?
Based in
Burnley, Lancashire, United Kingdom