JasmineMEccles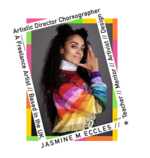 I'm Jasmine M Eccles, call me Jazz...
My training and knowledge in dance is continuously expanding with discipline such as Ballet, Tap, Modern Jazz, Jazz Funk, Street Dance Styles, Experimental movement and also therapy in movement.
Private Lesson I currently teach are in styles Ballet, Tap, Therapy in movement and Street Dance styles.
My experience within the career of professional dance include credits below....
Little Mix
French Montana
Dua Lipa
X factor
Britian's got talent
The Brit Awards
EMA Awards
Ferrari
Disney
Thriller Live World Tour
West End
& Many more.....
Looking for: people to learn with, networking, collaboration and interesting things.
Based in
Nottingham, United Kingdom