st244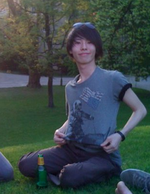 I am here to offer a range of private Japanese language lessons and classes within England.
Despite of the lack of teaching experiences, I have accomplished 'primary english teaching' module when I was at my College so I have a basic knowledge in teaching I believe.
I am up for offering tailor made training at their homes, offices, or anywhere my clients feel comfortable to be.
Currently, I am studying Politics/Economics at the University of Leicester and am seeking my trainees around the area in Leicestershire LE2 2LG, or in the major cities within England.
As a freelancer, I am in position to make a very flexible offers regarding the times and places as well as the method of teaching Japanese for your best. From casual lessons to intense training using a wide range of study resources that I have.
Compensation is negotiable depending on the length/frequency of the teaching and the location. I would be delighted to discuss travel costs if my clients insist me to come across the country.
ANYONE would like to have general Japanese lessons and wishes to start as soon as possible, I would be all yours! Please feel free to contact me for more details and to apply.
I look forward to hearing from you!
Contact Suguru Tsuda
Email st244[ at ]le.ac.uk
Website I will set up a facebook page if I get any clients!
Looking for: teachers, people to learn with, help and advice, networking, collaboration and interesting things.
Learning
This person isn't learning anything yet. Why not send them some inspiration by messaging them?
Based in
Leicester, United Kingdom